Israeli military releases security camera footage it says shows two kidnapped men being taken into Gaza's largest hospital on 7 October
Arab and Muslim ministers called on Monday for an immediate ceasefire in Gaza, as their delegation visited Beijing on the first leg of a tour to push for an end to hostilities and to allow humanitarian aid into the territory.
Reuters reports that the delegation, which is set to meet officials representing the permanent members of the UN security council, is also piling pressure on the west to reject Israel's justification of its actions against Palestinians as self-defence.
The officials holding meetings with China's top diplomat, Wang Yi, on Monday are from Saudi Arabia, Jordan, Egypt, Indonesia, Palestine and the Organisation of Islamic Cooperation, among others.
The extraordinary joint Islamic-Arab summit in Riyadh this month also urged the international criminal court to investigate "war crimes and crimes against humanity that Israel is committing" in the Palestinian territories.
Saudi Arabia has sought to press the US and Israel for an end to hostilities in Gaza, and Crown Prince Mohammed bin Salman, the kingdom's de facto ruler, gathered Arab and Muslim leaders to reinforce that message.
Here are some recent images from the Gaza Strip, this time of the funeral of freelance journalists Hassouna Sleem and Sary Mansour.
The two were killed on Saturday in an Israeli assault on Bureij refugee camp, in the centre of the Gaza Strip, their relatives and Palestinian health officials said.
Health officials said 17 people died in the attack.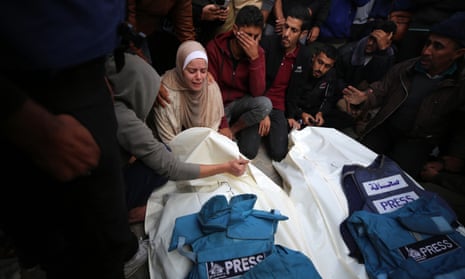 Photograph: Majdi Fathi/NurPhoto/Shutterstock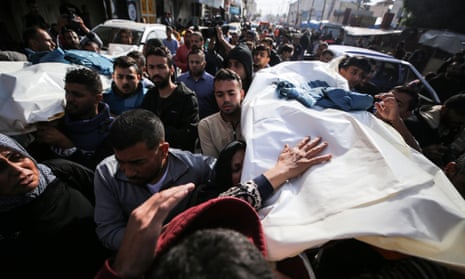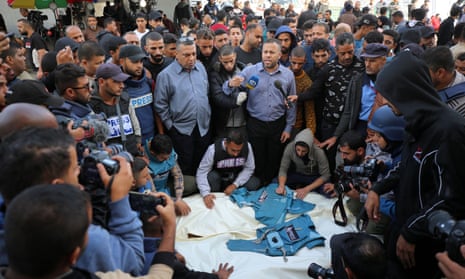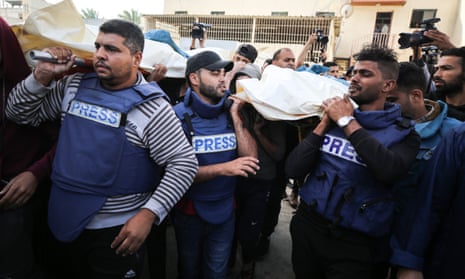 Hello and welcome to the Guardian's continuing live coverage of the Israel-Hamas war with me, Adam Fulton.
Israel's military has released security camera footage it says shows hostages being brought into the al-Shifa hospital in Gaza City on 7 October after being kidnapped during Hamas's attacks on southern Israel.
The first clip, which appears to be time-stamped 10.53am on 7 October, shows a man in shorts and a pale blue shirt being dragged through what looks like an entrance hall by five men, at least three of whom are armed.
In the second, seemingly time-stamped 10.55am, an injured man in underwear is wheeled in on a gurney by seven men – at least four of them armed – as several men in blue hospital scrubs look on.
It was not possible to verify the footage independently. More on that soon.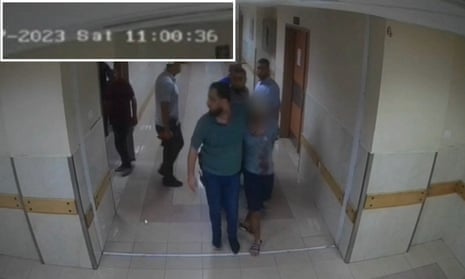 Security camera footage released by the Israeli army showing what it says is Hamas fighters leading hostages into al-Shifa hospital on 7 October. Photograph: Israeli army/AFP/Getty Images
In other key developments as it approaches 6.30am in Gaza City and Tel Aviv:
Palestinian medics have evacuated 31 premature babies from al-Shifa hospital in Gaza City and taken them to a hospital in southern Gaza for assessment and treatment, the World Health Organisation has said. Doctors found that "all the babies are fighting serious infections due to lack of medical supplies and impossibility to continue infection control measures in al-Shifa hospital", it said. Preparations were under way for the babies to enter Egypt, said the director general of hospitals in Gaza, Mohammed Zaqut.
Israel and Hamas appear to be edging towards a deal that would see the release of a significant number of hostages, possibly in return for a limited ceasefire and the release of Palestinian prisoners from Israeli jails. Senior US and Israeli officials, as well as the Qatari prime minister, all suggested an agreement was close on Sunday, although observers have cautioned that public statements during such negotiations are often misleading and any potential deal could easily collapse.
A senior Israeli source and a senior member of Hamas rejected a report quoting an unnamed Hamas source as saying an agreement was reached on Sunday to start a ceasefire on Monday and release a number of hostages, according to a report in the Jerusalem Post.
Japan's top government spokesperson says the country is appealing to Yemen's Houthis who have captured a cargo ship in the southern Red Sea and is seeking the help of Saudi, Omani and Iranian authorities to work towards the swift release of the vessel and its crew. Twenty-two crew were onboard, including Bulgarians and Filipinos, Japan's Nikkei newspaper said.
The Israel military has published video footage it says shows the first solid evidence of a sophisticated Hamas tunnel network underneath the al-Shifa hospital complex. It said on Sunday that its troops "exposed a 55-metre-long terror tunnel 10 metres deep" under the hospital complex. Hamas dismissed Israel's claim, while the director of the Gaza health ministry, Mounir el-Boursh, reportedly called it "pure lie".
At least 13,000 Palestinians have been killed and 30,000 injured by Israeli strikes across Gaza since 7 October, Gaza's health ministry said on Sunday. Nearly 884,000 internally displaced persons were sheltering in 154 installations in Gaza run by the UN agency for Palestinian refugees, the agency said.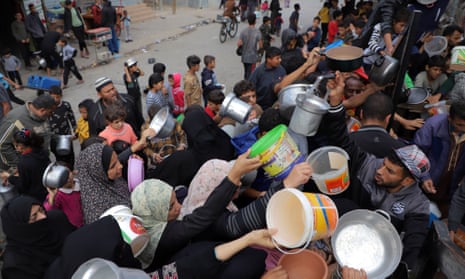 People wait for food relief in the southern Gaza city of Rafah on Sunday. Photograph: Xinhua/Shutterstock

France will send a warship to provide medical aid to Gaza, President Emmanuel Macron has said.

The head of a prominent media institution in the Gaza Strip and two other journalists were killed over the weekend in Israel's offensive in the territory, their relatives have said. The New York-based Committee to Protect Journalists said the weekend deaths raised to 48 the number of journalists and media workers it had confirmed killed in the region since 7 October.

The World Health Organisation, which led a second assessment visit to al-Shifa hospital on Sunday, commended the healthcare personnel working at the facility, which the WHO declared to be a "death zone".

https://www.theguardian.com/world/live/2023/nov/20/israel-hamas-war-live-updates-hostages-al-shifa-hospital-gaza-hamas-attack